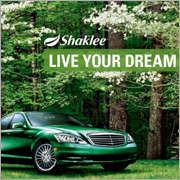 The Freedom Project is a simple 3 step process on how to get your Shaklee buisness up and running. Here is a quick video that tells you how it began.
http://www.yourfreedomproject.com/#how-it-began
Have you ever wondered, "This is a Home Business,
why aren't we doing it from home?" Now you can get
out of your car, and stop driving everywhere.
However unlike other online systems who suggest
you can build from home while on autopilot, we still
understand that no system can ever replace the results
of people presenting and building relationships with
other people.
You can't automate building relationships. And building
relationships and leaders is the corner stone of success
in this industry.
Have you ever wondered, "Will anyone help me?"
We've subscribed to the Dr. Shaklee philosophy since
the inception of our system. We help anyone regardless
of rank or lineage so you can always count on
someone being willing to help.
We also have a unique spirit and culture that you can
plug your team into that creates the glue you'll need to
keep your team moving forward. We're also the only
system that is created and maintained by Shaklee
people for Shaklee people. You'll feel the Shaklee
spirit and heritage infused within.
You can learn more about the Freedom Project at my website.