Jude & Jack Peskuski, Shaklee Success Story
Key Coordinators, TX
Start Date: September 12, 1977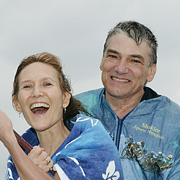 Jude and Jack Peskuski had a dream – health and financial independence for themselves and their family. Today they are living their dream, made even better because they are improving the lives of others by teaching them the same ideas that brought them success. "So many people," Jude explains, "married with children, young singles just starting out and retirees on a pension want the freedom and independence of working from home and being their own boss. We wanted to find a way to help them reach their goals." And that's what they've accomplished.
Their success began when both Jude and Jack experienced great results from using the Shaklee products. Jude was immediately excited and began to share Shaklee products with her family and friends. Soon, the products were selling themselves. "Shaklee isn't so much about selling," says Jude, "as it is about sharing a lifestyle. Throughout Shaklee's 50-year history, it's always been about families united, unleashing their dreams through building an independent, home-based business with Shaklee."
Jude, a self-proclaimed skeptic, welcomes customers who question and probe until they discover the truth behind the products and the company. " Shaklee is easy to share," claims Jude. "It's a company with integrity, offering products that are science-based and an income opportunity that is second to none!" She embarked on her Shaklee business slowly, working just 2 hours a day, 5 days a week – the major benefit being that she was able to be at home with her children. But within six months, Jude saw her part-time earnings grow to over $1,000 a month!
The success of Jude's spontaneous Shaklee business convinced Jack to commit his time and energy to the venture. Their joint efforts have reaped endless rewards and their passion for sharing the opportunity has spawned an exciting new Shaklee enterprise — Project MAHMA™ … Moms At Home Making A Difference(and a lot of money). Both Jack and Jude believe it's the perfect vehicle at the perfect time! Jude describes Project MAHMA as an international coalition of families who are able to work at home helping others who want to do the same. Jude's enthusiasm for this program is contagious. "I actually get paid to share Shaklee!" she declares. And testimonials keep pouring in to fuel the excitement. As one Project MAHMA mom affirms, "Shaklee is a gift that keeps on giving." Another states, "The more you share Shaklee, the bigger your share becomes." And, "Shaklee enabled me to be home with my son whose father had just left us. I wouldn't have missed that precious time for anything!" Project MAHMA is about helping families have more time together and improving the quality of their lives.
Jack revealed that a recurring question with new prospects is "Why Shaklee and why now?" He explains, "The wellness industry is booming and on the verge of even greater growth… 78 million Americans are aging and 50,000 people a day are turning 50. People want more energy – they want to look younger and prevent illness. The next 15 years," quotes Jack, "will see Baby Boomers becoming even more passionate about health, being active, making a difference, and enjoying income opportunities." Shaklee and Project MAHMA provide the perfect opportunity to realize these goals.
Jack and Jude credit Roger Barnett for encouraging the entrepreneurial environment in which Project MAHMA was created and applaud his inspiration and visionary leadership. They believe the project's potential is limitless and look forward to even greater success for all those whose lives they touch and for themselves.
Here is a great video about the Freedom Project!
You can also get more information at http://IncomeForMom.com