Shaklee Sports Nutrition products can help you perform, and we have the tests to prove it! We've been clinically testing our products for decades to give you the best
that science has to offer. Sustained energy. Long-lasting hydration. More complete recovery. The results speak for themselves.
It's a competitive world. If you want to maximize your performance, you've got to
maximize your nutrition. Don't trust your body to empty promises, marketing hype,
questionable science, or artificial ingredients.
Shaklee Performance
®
Sustains Energy!
More energy! More endurance! The longer and tougher
your workout, the better Performance gets
http://images.shaklee.com/video/show.php?video=Pure-Performance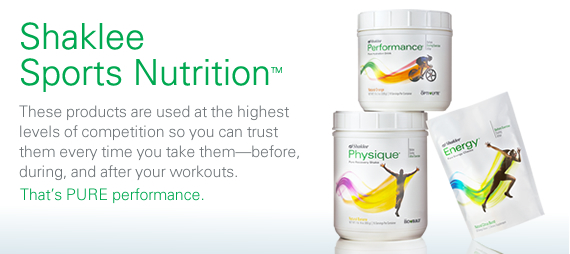 Shaklee Physique
®
Improves Recovery!
Recover faster! Recover more completely! Physique
restores energy to your muscles when taken immediately
after working out and again two hours later.
To get more information on these great products visit bartell.myshaklee.com